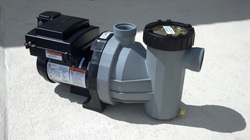 Speck Badu EcoMV
The Speck Badu EcoMV is Specks answer to the green revolution in variable speed pool pumps. It's quiet, efficient, and powerful. The EcoMV is a simpler, rugged, sexy pump with German engineering that translates into a high quality variable speed pump that any pool technician or pool owner will be proud of.
Speck Pumps
Speck Pumps have been manufacturing and designing pumps for over 100 years and boast their pumps being launched into space with American astronauts. Those two points lead to the kind of quality and technology that Speck has built into the EcoMV and what they bring to the table for the entire pool industry. While being more prominent in the commercial industry, Speck is now creeping into the residential side of pool pumps with commercial grade technology and quality. To put it simply, a home owner can now have the same technology used in resort pools moving the water in their pool and spa.


That look...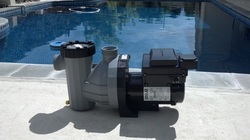 At first glance the Speck Badu EcoMV stands apart from all other pumps with it's design and color. The pump basket is tall and narrow giving the wide pump and motor an aggressive look. The black motor and control unit with gray pump and yellow pump basket give contrasting colors throughout the unit adding a bit of flash that looks as well as it performs.

The pump is made out of 100% recycled plastic can withstand high temperatures and all weather conditions and chemical applications. So not is
the pump good looking but it's very sturdy as well.


Price
The price of the EcoMV is set a little below the Hayward EcoStar and the Pentair Intelliflo, which is its main competition among residential applications. This gives an advantage to the Speck pump. Hayward and Pentair are both very big names in the pool industry while Speck is lesser known in residential markets. By undercutting both those pumps in price it makes this company a bit more attractive to people who would invest in a variable speed pump.

The price of the EcoMV is properly set. While the Hayward EcoStar and Pentair Intelliflo offer a wide range of customizations and features, the Speck EcoMV has simpler software. This "less is more" attitude is one of the leading features of the pump. The more complicated a system is, the more things that can go wrong.


Horsepower and RPM Range
The Eco MV has two different motor options. One that runs at 2.4 THP and one that runs at 3.4 THP.
The one I am basing my review upon is the 2.4 THP motor.

With respect to RPM range, Speck handles its range in terms of percentage of highest RPM. The highest RPM for this motor is 3450. That would be considered 100%. The lowest RPM is 30% of that, or 1035 RPM. Other pumps have an option to
run at a lower RPM (600 RPM) but it is rare to see a pump running at such a low speed in any real world application, especially if an auto cleaner is installed.

The EcoMV can be set to run at a number of different RPM settings at different times. It can be set at a slower RPM for better filtering throughout the day and ramped up for a few hours for an auto cleaner.




Usability
As mentioned earlier the EcoMV is "simpler." This means that it's a no frills pump that isn't that complicated to use. While the Pentair Intelliflo has many options and customizations, the EcoMV has few. Therefore, less things to go wrong. The EcoMV focuses on what it does best, move water.

The controls for programing the pump are easy to use and intuitive. There are five (5) schedules that can be programed; two (2) for schedules Monday through Friday, two (2) for Saturday and Sunday, and one (1) custom schedule. In most normal
circumstances a pool pump is ran the same time every day so these scheduling options are more than enough.

Below is a picture of the EcoMV control board. As stated earlier, easy to use and very intuitive.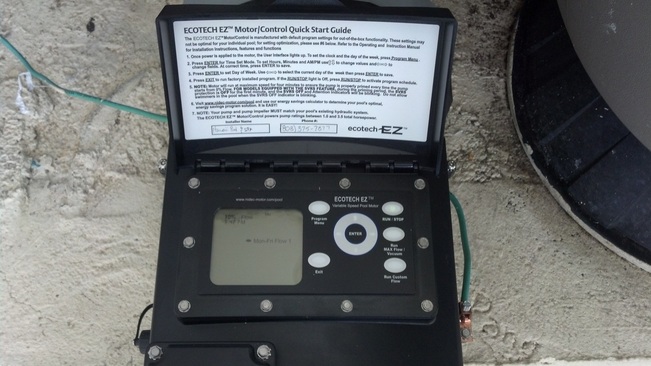 Efficiency and Cost to Operate
When looking at variable speed pool pumps, one of the biggest factors is efficiency. Purchasing a variable speed pool pump is a costly investment for the home/pool owner but it is done with the expectation of saving money down the road. Therefore, how much money it costs to operate is a main factor in the decision.
The California Energy Commission put the EcoMV to the test and the results are below (
http://www.appliances.energy.ca.gov/
).
3450 RPM = 93 GPM, 2417 Watts
1035 RPM = 32 GPM, 111 Watts
When looking at the energy consumed by a pool pump, the energy is measured by Watts (W) or Kilowatts
(kW). These measurements can help determine the operating cost of the pump by the equation below.
(Power Consumption of Pump) X (Cost of Electricity) = (Cost of Pump Operation per Hour)
When looking at the cost of operating this pump, the following equations can help estimate that.
1. The EcoMV operating at its lowest speed (1035 RPM) at 111 Watts. Cost of Electricity - $0.36 per kWh.
2. Convert Watts to Kilowatts: 111 W / 1000 = 0.111 kW
3. 0.111 kW X $0.36 = 0.03996 or $0.04 per hour
4. $0.04 per hour at 6 hours a day = $0.24 per day and $7.20 per month.
Under $10.00 per month is VERY respectable for operating a pool pump. Even at its lowest RPM it pushes 32 GPM and can turn a 15,000 gallon pool in under 8 hours.
While looking at the competition, this is how the Speck Badu EcoMV stacks up the Pentair IntelliFlo and Hayward EcoStar. All examples are taken from the California Energy Commission website. These tests were performed by a non-biased third party and the results are below.
From the results above, we can determine that Speck pump is in the efficiency range of the Hayward EcoStar and that the Pentair IntelliFlo is the least efficient of all three pumps.




A Case Study on Efficiency
In Hawaii, The cost of energy is very high at an average of $0.36 per kWh.

I was approached by a residential first time pool owner to install a variable speed pump. At the time, his pool had a 1 HP Century pool pump. While looking at the pump label I was able to determine that the pump was running at 230 Volts at 7.8 Amps. In real life the pump was running closer to 240v and 8 A but for the sake of the case study we will do the calculations on what the label stated. Let's perform the calculations.

1. 1 HP pool pump operating at 1794 W (volts x amps). Cost of electricity = $0.36 per kWh
2. Convert Watts to Kilowatts: 1794 W / 1000 = 1.794 kW
3. 1.794 kW X $0.36 = $0.65 per hour
4. $0.65 per hour at 8 hours a day = $5.17 per day and $155.00 per 30 day month


After the Speck Badu EcoMV was installed, it was set to run at 7 hours a day at 30%, or 1035 RPM.

1. The EcoMV operating at its lowest speed (1035 RPM) at 111 Watts. Cost of Electricity - $0.36 per kWh.
2. Convert Watts to Kilowatts: 111 W / 1000 = 0.111 kW
3. 0.111 kW X $0.36 = 0.03996 or $0.04 per hour
4. $0.04 per hour at 7 hours a day = $0.24 per day and $8.40 per month.

In this particular situation, this pump was able to save the new pool owner around $146.60 a month on their electricity bill. A happy customer indeed.





Conclusion
The Speck Badu EcoMV is a very sturdy, rugged, no frills pool pump that operates on the "less is more" mentality. It is very well constructed and engineered and that can make this pump last for years. It is easy to install and operate and comes in at a lower in price from other comparable pumps on the market. It runs very efficient and according to the California Energy Commission it is more efficient then the Pentair Intelliflo. This is an overall very good pool pump that can save owners a lot of money on their monthly electricity bill.