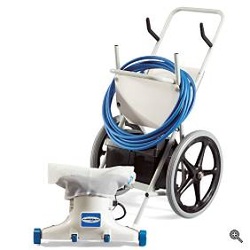 I finally did it. I "bit the bullet" and got myself a Hammerhead Vacuum. I spent over 2k and it sucks! It sucks really, really hard. So hard in fact, that you can see it sucking leaves and debris from outside the vac head unit. So hard in fact, that when you turn it on, it sticks to the bottom of the pool. So hard in fact, that my arms are getting ripped from using it (OK, maybe not). You get the gist of it. I feel that it is safe to say that this vacuum has changed my company and the way I service pools. Now I'm spoiled. Here we go again…

I picked up this Hammerhead Vac from SCP on Oahu by the airport. In total, I think I spent about $2400.00 for the unit, marine battery, battery charger, hitch lock, and hitch receiver for my truck. It was a pretty big investment for me, especially for something I could do without. In fact, I have been NOT using it for years. I spent the extra coin and got the unit with the kart. My thoughts were that I didn't want to carry around my bucket, pole, net, Hammerhead unit, cable, and heavy battery in and out of all my pools. That could be 60 lbs plus. Although that's doable, it's not my first choice. That decision will haunt me later as that Kart is big and can be a pain in the butt to get in and out of some pools… and sometimes impossible.

I have a pool where the access is just to the left of house where there is about 1.5 feet between a rock wall and the house and severely downhill. The Hammerhead kart will not make it. There is also no way of taking off the kart without screwing something up. This pool sure could use it but I can't get it there. That's one problem of the kart.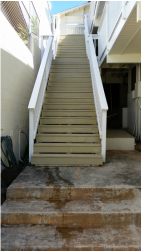 I have another pool where its 3 stories down from the garage where I park to the pool. On this particular pool, I "man up." I drag this thing up and down 3 stories just so I don't have to use my conventional 21" vac head hooked up the skimmer. This particular pool gets a lot of debris. Large leaves and palm frowns littler the rough stained plaster floor. This pool is what the Hammerhead Vac was made for, a lot of large debris. Using this vacuum has cut my cleaning time down about 30%. I no longer have to net up the large debris before I vacuum. I just brush, so all the debris comes together, and then I vacuum. Although it's tough, I "man up" and use the Hammerhead. The two examples above make NOT getting the kart a good idea. But, not all my pools are like this.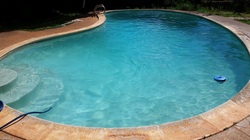 Because this vacuum is so efficient and picks up large debris, I find myself using it on almost all the pools I need to vacuum. The majority of them are easy to wheel the kart to so that's not an issue. I use it because of the debris that gets in all my pools. There are 2 particular kinds of debris that's tough to vacuum up. If you are a pool guy in Hawaii then you're familiar with palm flowers and buganvillia. When the palms drop their flowers and the tradewinds blow the buganvillia flowers into the pool, they can be very tough the pickup with the conventional vacuum head. So tough, in fact, that I found it's faster to scoop them up with a net then to vacuum them. The Hammerhead Vac sucks it up no problem. I no longer have to spend the extra 10 – 15 minutes scooping up debris; the Hammerhead does it for me.

The Hammerhead Vac really helps me to clean my pools faster. This means I can get in more pools in a day. It's kind of like working smarter not harder. Although it can be tough to get the kart in and out of some pools and it's not cheap, it's worth the effort and every penny. Check out some of the before and after. That happens on a weekly basis. Nuff said.

If your a Pool Service Professional and you DON'T have one... The clock is ticking.