The Western Pool & Spa Show is a convention in Long beach held every year. This year, I was lucky enough to attend. So, I packed up my suitcase my wife and my kid and flew off the rock. I took classes and saw booths and met people. Let me re-phrase that. I took a lot of classes, saw a lot of booths, and met a lot of people. I took it all in. All 3 days of it. I could write an entire book about the conference this year but I wont. Instead, I will show you what I thought were the highlights of the trip.

The Classes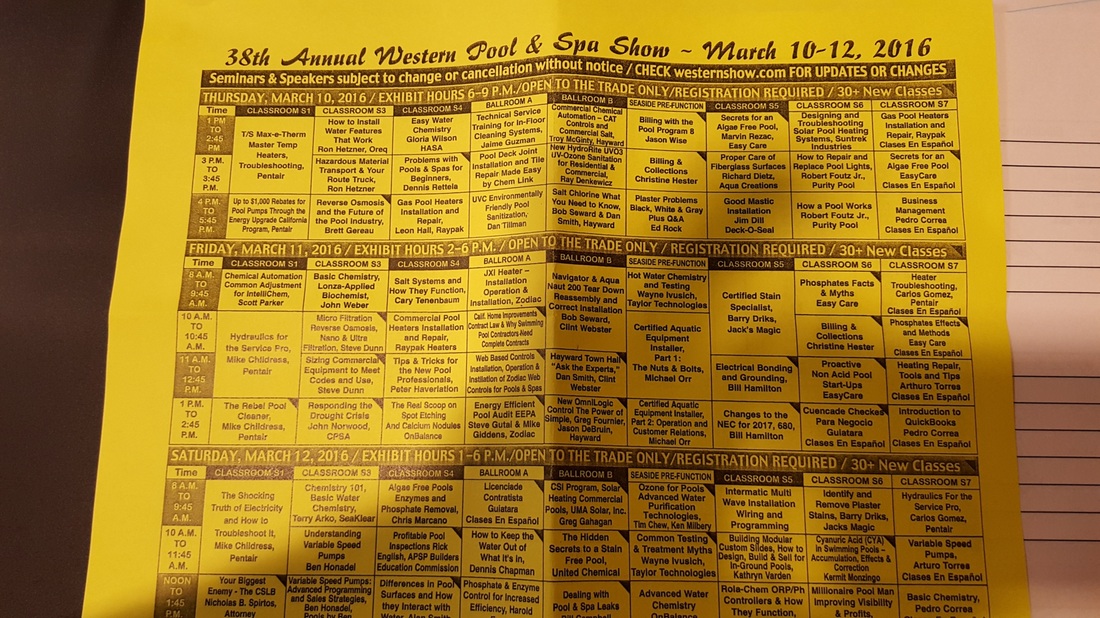 First and foremost I went to the show to learn. I have a very strong "yearning for learning". This life is full of classes, lessons and knowledge and to be competitive you need to keep up with it. Plus, it stimulates the brain. Coming from a job that was mostly brain work, I kind of miss that. I took classes in every time slot that classes were available. Mostly, i took classes that pertained to my current role or things that I want to do in the future. All of the classes were very good from Advanced Chemistry to troubleshooting heaters. But, there was one class in particular that stood out and truly blew my mind.

That was a class put on by Pentair that taught Hydraulics for swimming pool implementations. I was captivated. I'll save the details for another blog but the gist of it was calculating TDH and properly specking pump size. I took an Advanced Chemistry class put on from On Balance. That was really good too but most of it was a review from an Intermediate Chemistry class put on by Taylor at the Vegas show a number of years ago. The Hayward OnmiLogic class was also very good. That is a very smart and intuitive automation product that I cant wait to get my hands on. So, if your reading this and want that installed on your pool system I'll give massive discounts for the first person that wants it. Pretty much cost. Anyway, that leads me to my next highlight of the 2016 Western Pool and Spa Show. Hayward Pool Products

Hayward Pool Products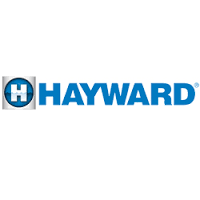 If you live here on Oahu chances are you hear a lot about Pentair. It seems like this island is very much a Pentair Market. That may be changing. Hayward has gotten more aggressive in their marketing here in Hawaii. This includes promotions and hiring a sales person that actually lives on the islands. Its good to see that because if I need anything, I can give her a call, and she is in my time zone. Not to mention a free beer or two on her more active visits to Oahu. The way to my heart is definitely through my stomach.

Anyway, the local Hawaii rep hooked me up with a couple of Hayward techs out at the pool show who were very helpful and knowledgeable in their products. They were proven to be good contacts to have and you bet I got them on speed dial. I have to say that that company, from their reps, to their techs, to their products have impressed me. A couple of their products I would like to highlight is their new pressure cleaner and the OmniLogic automation system.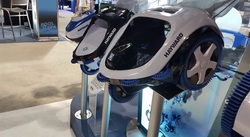 Hayward has a new pressure cleaner called the TriVac. It's definitely much different then the Polaris and Pentair cleaners that have lead the industry for years. This cleaner not only has a triple venturi system and large suction throat to pick up debris laying on the bottom of the pool floor but it has a large wide mouth on the top of the cleaner that collect floating or neutrally botany debris that got kicked up somehow. It also has a line of smaller wheels on the front cone of the unit that will re-direct the cleaner if it hits a wall, stairs or gets caught in a corner somewhere. I have a current client keeps having the Polaris cleaners grind down the front portions of the plastic because they keep getting stuck on her stairs. This is possibly the solution for her. Hayward also has a promo with these things right now where if you buy one you can get a free booster pump to run it. I will definitely be taking advantage of this. It ends May 31st 2016.
Contact us to take advantage of this offer.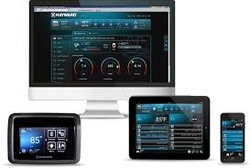 Hayward also has their automation system that they are promoting heavily. Its very smart. This is the only automation system in the industry today that reminds me of a computer. I have a professional background in computers and technology so i feel that the automation side of the swimming pool industry is something I take to pretty quickly. This on reminds me the most of a computer system. It comes with an Ethernet port and USB port from the factory. This allows you to easily connect this system to your home network and backup / restore settings and data. Something every automation system should have, especially if you want to integrate with your smart devices. That doesn't seem so tough to me. USB and Ethernet have been around for years....

Not only the hardware looks good. The user interface for the system is hands down the best and intuitive interface in the industry. They allow you to customize your home screen with whatever you want with quick reading charts that give you an overview of your pool system at a glance. One of those features is adding a background color to the interface that will tell you if your system is running good, if you have a warning, or if something is going wrong. Seems simple but handy for both the home owner and the service pro.

Hayward has also assigned addresses to most of their products creating a plug and play environment. If you plug in a salt system or some other Hayward smart product it will be automatically recognized he system for easy programing. Not to mention the programing on this interface seems much more intuitive then the other guys.

Speck EasyFit Pump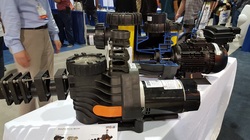 I've pretty much been a fan of Speck Pumps since I got my hands on the EcoMV. They now have a new pump called the EasyFit. This pump can use a wide array of dry end motors including the one they use for their EcoMV. The feature of this pump is that it has a wide array of fitment options including a vertical stand that can be raised or lowered for small or large height differences. Along with the pump you would purchase a fitment option. So, if your replacing a Challenger you would get the pump and the challenger fitment option. They screw on to the front and top of the pump as you can see in the picture. This can possibly make a new pump install almost plug and play.

A quick shout out to Carlos from Speck who I met at their booth one night. Good people, good products.

Pentair Illumavision Underwater Projection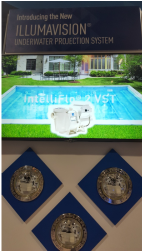 Pentair had a pretty big display at the Western. Among all the pumps, filters, and technology there was a small vertical wall that contained what looked to be 3 lights. Upon closer inspection it was an underwater projector that would fit into their light niche. Yup... You heard that right. An underwater projector. I feel light color changing LED pool lights just came out and I'm still geeking out on those. Noe, Pentair throws this out there? Mind = blown. I guess the technology has been around for a while but they are the first to throw it in a pool light housing and drop some animated sharks at the bottom of your backyard paradise.

I don't know when this is coming out yet or how much it will be but be rest assured I will buy one, throw it in a white plaster pool, and throw up some pictures and videos for the world to see.

I'm not sure how this will work in dark or colored tile pools but like any old projector, a white background with crystals to enhance the reflection is ideal. I cant wait to see more of this.

All Work and No Play Makes Blake a Dull Boy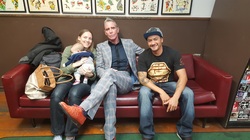 As much as my primary objective was to learn and be more prevalent in the swimming pool industry, I had to have a bit of fun too. I brought my wife and son and we met up with friends and family as much as we could. Because of my busy schedule we didn't see everyone we wanted so we will have to catch some of you guys next time!
One of my primary "fun" objectives was to make it out to West Hollywood or "Weho" as I learned it was called and get a tattoo from Mark Mahoney's Shamrock Social Club. More importantly, get a tattoo from Isaiah Negrete. Not only did I get that, I got to get another awesome tattoo from Louie Perez and meet and get a family pic with the legend Mark Mahoney. Everyone over there was super cool and I had a blast. Thanks to all the peeps at the Shamrock Social Club for making a great experience for me and my family.